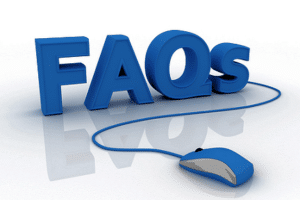 Frequently Asked Questions
FAQ: Why should I submit a Request for Quote (RFQ) rather than order?
Answer: We strongly recommend our customers submit an RFQ rather than place an online order on the website.

IMPORTANT NOTE:  Shipping charges determined by Morse® are subject to change without notice requiring an additional charge for for *online* order.  Submitting an RFQ is your best way to order.
We strongly recommend our customers submit an RFQ rather than place an online order uing the website so we can lock down your best deal.
In most cases, we can provide a written quote within hours including an accurate ship date allowing our customers to consider the delivery date when ordering while permiting us to lock down your best deal.

In the event of a cancelled order, McBrady-McMahon may deduct cancellation charges from any refunds.

You can avoid costly issues by submitting an RFQ to ensure you order the correct item. There are many products so you may find our Sales Engineer's advice on choosing the right one helpful.

We try to provide accurate information on the availability of Morse® equipment. Some of the factors that affect lead times are:
* Custom equipment and equipment made of select materials built to order.
* Standard in-stock designs often require final assembly before shipment.
* Delays in components supplied by our vendors.
* Current shop backlog when placing the order.
FAQ: Why do I see product part numbers prefixed with "ME-"? What is an SKU?
Answer: The "ME-" indicates our SKU part number, which has the form "ME-" |MPN, where MPN is the Manufacturer's Part Number. The ME stands for McBrady-McMahon Engineering. You will get better product search results using our SKU.

Parts numbers usually end with a "-P," Stainless steel products "SS," "M" means spark resistant, a prefix of "CP" indicates a Control Panel, products that end with "115" are 115V, and "230" are 230V systems.

The GEK prefix to a part number means Guard Enclosure Kit for customer installs. An "E#" in the part number indicates explosion-proof. Similarly, GEO means Guard Enclosure Option installed at the factory.
FAQ: Why are some products priced at $99,999 and only available via RFQ?
Answer: Morse® does not publish a current price for these items. The high price is just a placeholder. We are required to contact Morse® for current pricing, shipping, and delivery dates for these products, so it is only available by RFQ. In most cases, we can provide a written quote within hours, including an accurate ship date and cost.
FAQ: I can't figure out what replacement part I need?

Answer: The best thing to do is to use the Contact Us form and ask. If you think you know what the product is, then submit an RFQ to get advice.

When using the Contact Us form, please try to provide the following:
* SERIAL NUMBER (on standard models, month/year of manufacture (eg. 0609 = June 2009 or the six-digit Morse order number (eg. 318426); when new, each unit has a serial tag including one or both of these.
* MODEL NUMBER (also on serial tag), e.g., a 400A-96-110; if you can't find this, a description of the equipment like a "400A Hydra-Lift, 96″ dump height, power lift, power tilt" is helpful.
FAQ: Custom Made Products are not *In-Stock*. Why can't the website provide lead time?
Answer: Lead times vary for all the reasons posted elsewhere in this FAQ; this is especially true for custom-made products. We recommend a Request For Quote (RFQ) for custom-built products. If delivery time is critical, an RFQ will help you learn how long it will take to manufacture the custom item, deliver it, and the shipping cost. The Sales Engineer will be happy to contact the manufacturer to provide accurate information to you. However, if delivery time is not a critical factor for you can order it.
FAQ: Why do you charge a PayPal service fee for canceled items?
Answer: When you place an order, Paypal charges our account with a non-refundable fee for processing your credit card payment. If you cancel an order after paying for it, we reserve the right to deduct the PayPal processing charge from the refund.

We recommend that you submit an RFQ before ordering to be sure you are ordering the correct item, are aware of all costs, as well as the lead time to ship. There are many products so you may find our advice in choosing the right one helpful.
FAQ: How can I tell if I am ordering a Custom Built product?
Answer: The description of a product will state: A custom-made to order (non-stock) product. Notice the "S" in the MPN, e.g., 185S-5 and 400S-XR. We try our best to maintain an accurate list of Morse® custom products.
FAQ: Why can't I find the Morse® Drum product I need on your website?
Answer: We try to make product searching easy, but there are thousands of products.  You will get better results if you use our SKU when you search.

In June 2021, Morse® added 430 new Recommended Spare Parts with an MPN prefix "RP." So while we list some 2900 parts, we have not yet added the 430 RP items into our inventory.

If you can't find a part, please submit a Contact Us form, and we will assist you.
FAQ: What is your email policy?
Answer: We do have a formal Anti-SPAM policy: Antispam • McBrady-McMahon, Inc. Indeed, we use email to process orders, RFQs, and when replying to submitted Contact Us forms. If you opt-in to do a Google Review related to your order experience, then after a few days, you will get an automated email inviting your review. If you elect to permit us to text you about your order, our correspondence will be only about the order and not solicitations. We have no newsletter that we send out to customers to solicit any sales. We respect your right not to be pestered by unwanted emails and texts.
Question: What Personal Identifiable Information (PII) do you retain?
Answer: Just what is PII? Rules and Policies – Protecting PII – Privacy Act | GSA First and foremost, we use PayPal to securely process payments so that no financial information is on our website. By necessity, we do collect information related to order fulfillment. No information is ever shared outside our organization. We use this information to communicate about order fulfillment. We may retain order information for tax purposes.
FAQ: How do I know that your website is secure?
Answer: Website security will always be an ongoing effort, but trust that we take it seriously. Our VPS hosting provides better reliability and safety. We also perform regular virus scans on our server with security software to monitor the site.  SSL and DNSSEC ensure domain and site access security and a firewall to secure the site from hackers. All staff logins use 2-factor logins. We also take measures to increase authentication on our email accounts using DKIM and SPF DNS records. Again, we recognize that website and hosting security is ongoing, and we take it seriously.
FAQ: Can we set up an in-person meeting?
Answer: We are happy to do Zoom or Skype video meetings when requested, but at this time, there are no in-person office visits. In some cases, an in-person sales call may be possible; Contact Us or call our office by phone.
FAQ: Can I purchase equipment on a trial basis then return it if it is not suitable for my application?
Answer: There is a limited trial agreement offered only on specific standard models (the trial is essentially what the manufacturer provides); there is no trial agreement for custom models or specials. Contact Us, submit an RFQ for the equipment or call our office phone to request additional information on the trial agreement.